Cat-Man-Doo™ Life Essentials Freeze-Dried Chicken Cat Treats 2 Oz
Regular price
Sale price
$10.99 USD
Unit price
per
Sale
Sold out
All Life Essentials products are part of the trustworthy Cat-Man-Doo brand.

This human grade, FDA inspected, all white breast meat is carefully sliced into strips. The strips are then fully cooked to eliminate any possible bacteria and then perfectly freeze dried without the use of chemicals, additives or preservatives.

This is a single ingredient treat free of grains and fillers. It is low in fat, calories and carbohydrates so it won't contribute to weight gain like biscuits and other high calorie treats. There are approximately 102 calories in ONE OUNCE of chicken.

These scrumptious bites are a healthy daily snack. They make a fantastic training treat for dogs and even the most finicky cats will love them.

You can feel great each time you reward your treasured four-legged family member with Life Essentials Freeze Dried Chicken.

Proudly made in the USA.

THE PET TREATS PRODUCED BY TRUE PET LOVERS!

100% Pure White Meat Chicken.

Crude Protein: 80.0% min
Crude Fat: 3.0% min
Crude Fiber: 1.0% max
Moisture: 4.0% max

Life Essentials Freeze Dried Chicken can be crumbled over food as an appetite enhancer. Rehydrate with warm water for a soft delicious snack or simply give to your cat or dog as an everyday treat. We recommend that you store Life Essentials Freeze Dried Chicken in this resealable bag or an airtight container in a dry location. Do not refrigerate.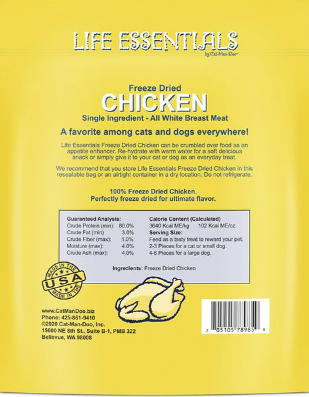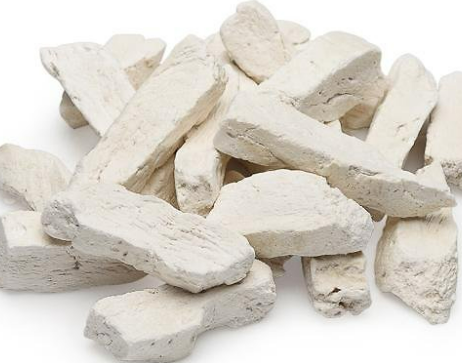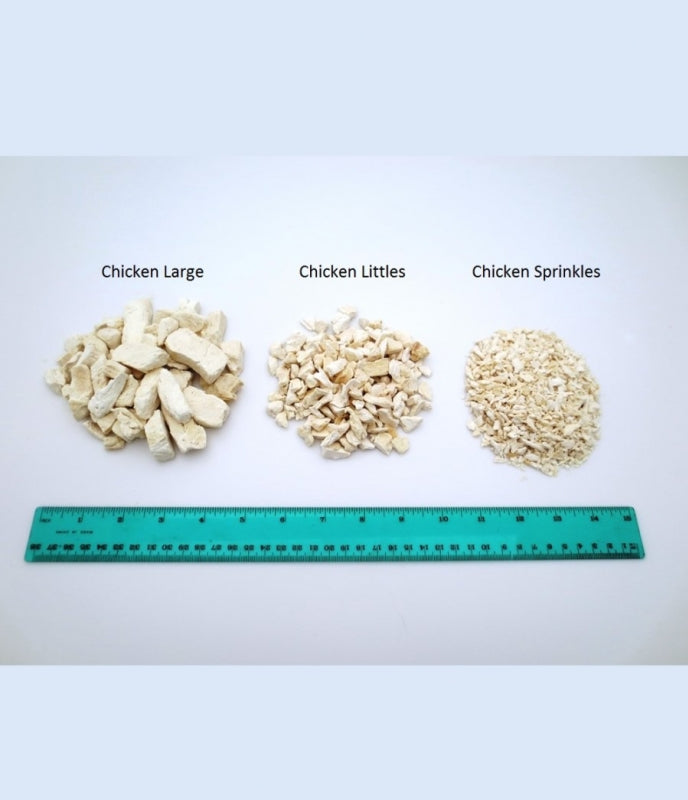 My cat, Max, loves his freeze dried chicken treats.
Cat-Man-Doo™ Life Essentials Freeze-Dried Chicken Cat Treats 5 Oz
Loved by all
It is very rare to find a food item that is loved by all 3 of my cats. This is it. They cannot seem to get enough of this chicken! It works well as a standalone snack on crumbled over other meals. Amazing, high quality product.
Kitties 😸 fav
I best not run out of these will have a munity.
My Cats Love These
Boy am I in trouble if I don't keep these in the house. My two Scottish Folds just love them. One likes the chicken and the other likes the salmon. So glad this store has them as they are hard to find in my town.
Cat Man Doo treats are the best.
Cat Man Doo dried chicken treats are the best treats you can buy, and are good for your pets. My cats will do anything for them. Time to come in, just show them the bag and they come running. They love Cat Man Doo.
Best freeze-dried chicken
With so many others brands, there would be pieces that were rock hard, uneatable. Life Essentials are always fresh and chewable, especially important for my geriatric cats, one of whom only has two teeth.
Cat-Man-Doo™ Life Essentials Freeze-Dried Chicken Cat Treats 5 Oz
They love them.
Haven't gotten the order yet
Hi Linda,
We will look into where your order is and email you privately. Thank you for being a Scollar customer! We truly appreciate your business.