Healthybud Duck Liver Treats for Dogs 4.6 oz
Regular price
Sale price
$12.99 USD
Unit price
per
Sale
Sold out
Helps reduce stress and relax your dog! Is your bud feeling anxious? Grab a bag of these nutritious, soft superfood chews to help reduce stress and relax your dog. Formulated alongside veterinarians and animal nutritionists, the Duck Calming Aid is made with all-natural ingredients to help reduce anxiety by providing a unique combination of adaptogenic herbs like Ashwagandha, Reishi, and Chamomile Extract which instil a sense of calmness and boost immunity. Packed with delicious flavors and nutritious ingredients, this chew is helps bring some zen into our pup's life.
No artificial additives, fillers, or animal by-products
Helps calm your dog & relieve anxiety
Natural calming superfoods
For dogs of any size and age
Great for car rides, grooming, thunder, separation anxiety, etc.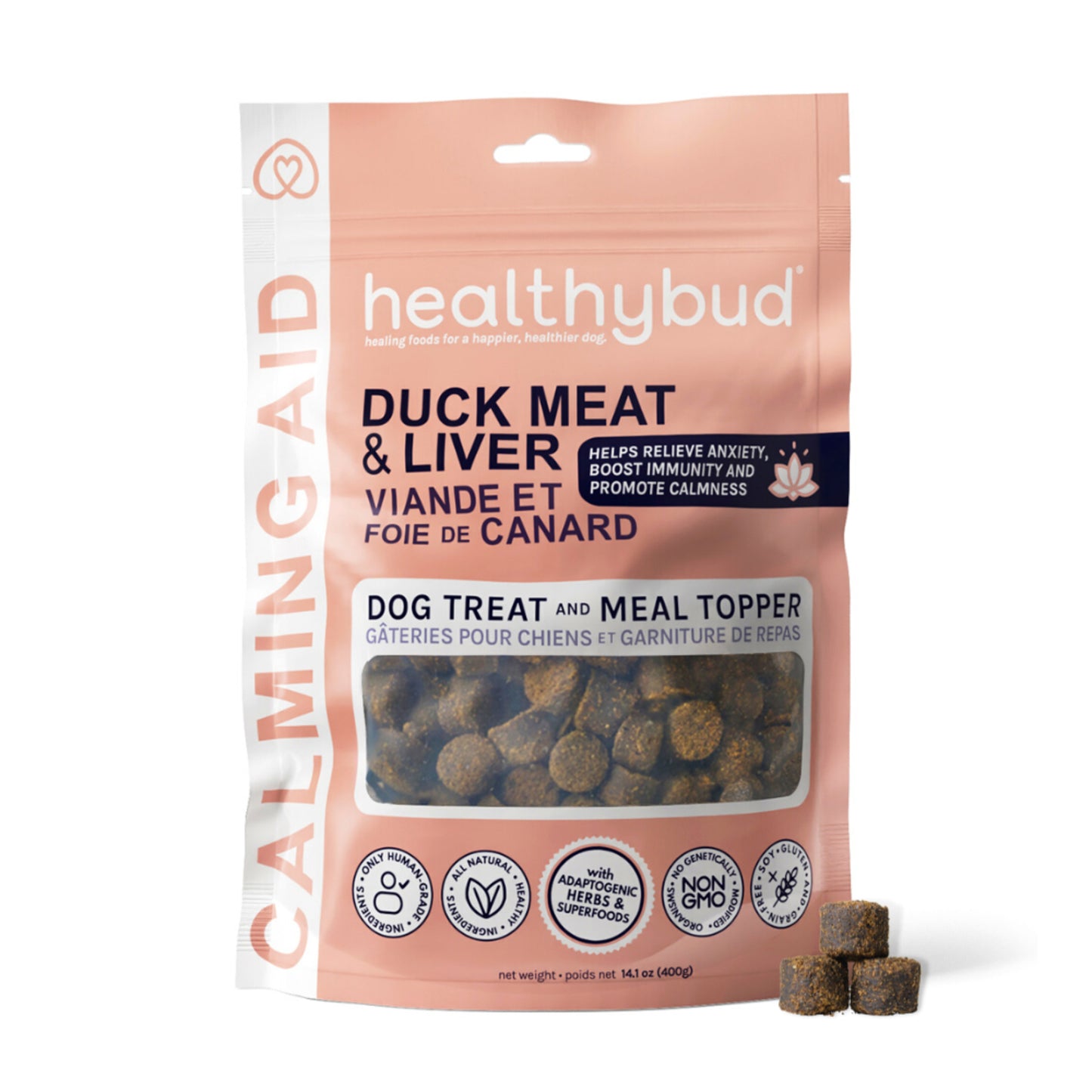 Ok, hold on...these have no right to smell so good! Now i'm the 1 begging him for a bite! He was licking his lips until he eventually plopped down for a cozy nap :)
Both of my dog's are extremely picky. They don't eat everything. They love Duck flavour and they are in love with their new treat. It's perfect for training or as kibble topper. Highly recommend.
I have two dogs with very different personalities and tastes. My non-picky eater loved these treats from the moment I brought them home! She would hear the bag and come running! My second dog is a SUPER picky eater and getting him to eat his kibbles or even treats was impossible till I tried these! They are so soft and easy to crumble into food or give as a quick treat. I bought them cause they are a local Canadian brand, but continue to buy them because of how much my dogs love them!
As expected, Bella LOVES these duck calming aid chews. We use them before long car rides and I find they actually help keep her a little bit settled! Will be getting more. 🤍
I have a 16 month old Goldendoodle with a sensitive GI system. Anytime he was given liver treats he got diarrhea. I was hesitant to try the calming treats because of the liver. So happy I tried them. He loves them, no stomach upset and I notice he is calmer. Will keep ordering these!!
My dog loves these treats, they're super high value for him! I tried feeding these to him before he took a bath, and he seemed to be pretty calm, although I'm not 100% sure if it was due to the treats, but they can't hurt! I feel good about feeding my dog these treats, since the ingredients are all wholesome.
We've not had the product long enough for me to have an opinion about the calming effect, but our dog is actually interested in these treats which is a huge plus for us as we are having a hard time finding him treats that aren't junk that he will actually want to eat!
I've been using these to help desensitize my pup from fireworks. It's an extra blessing as she loves the flavour, is redirected from the stressor, and gets the additional benefits of calm. Would highly recommend!