Healthybud Freeze-Dried Beef Meal Patties for Dogs 14 oz
Regular price
Sale price
$34.99 USD
Unit price
per
Sale
Sold out
A complete meal packed with powerful superfoods & healing ingredients! Our rehydratable Freeze-Dried Beef Patties provide the powerful benefits of raw food with the convenience of kibble. These meals are packed with unique ingredients and superfoods to help strengthen your dog's immune system and provide a delicious combination of antioxidant-rich foods. Our complete & balanced diets are formulated alongside veterinarians, nutritionists and partner universities. Formulated to exceed the nutritional levels established by the AAFCO Dog Food Nutrient Profiles for all breeds, life-stages and sizes.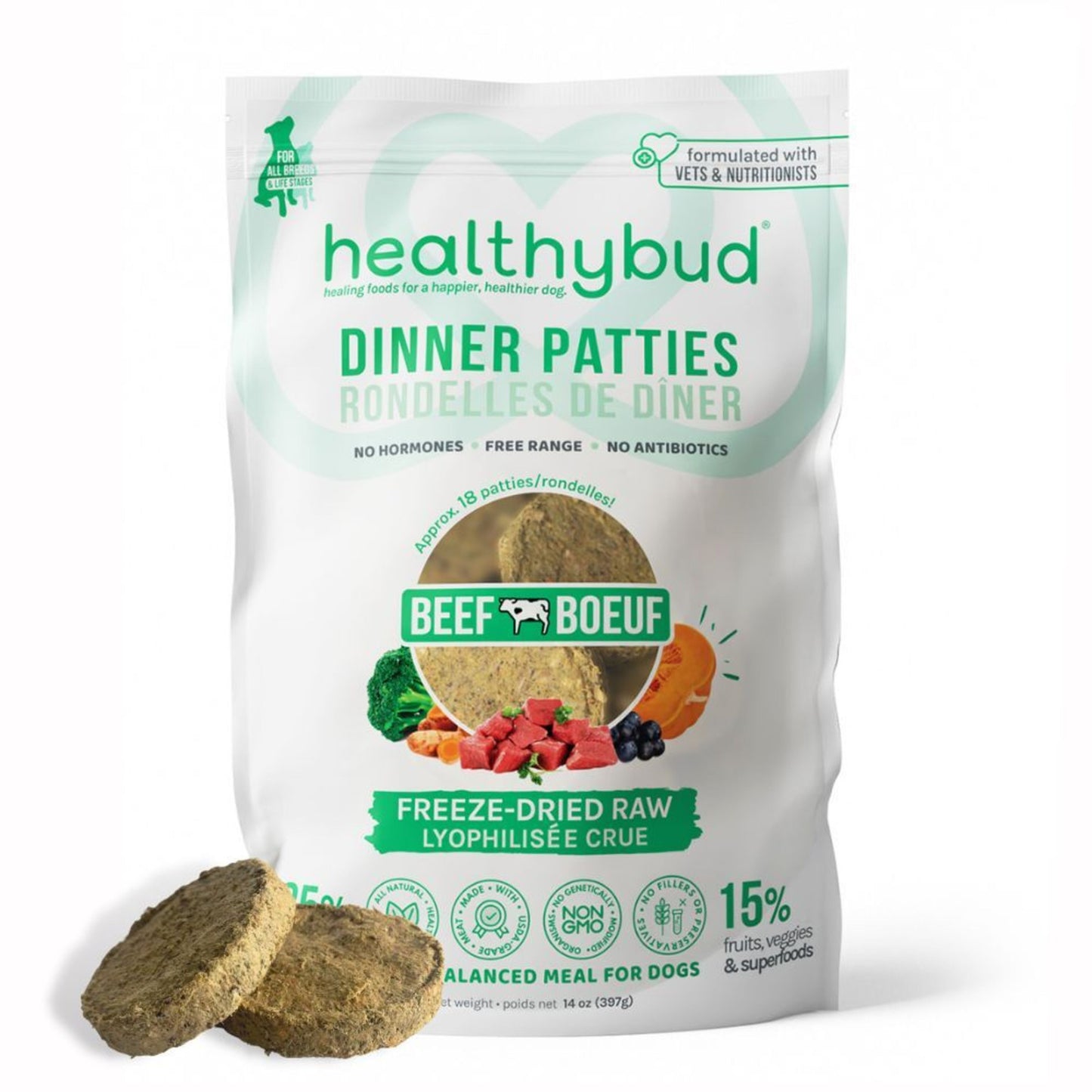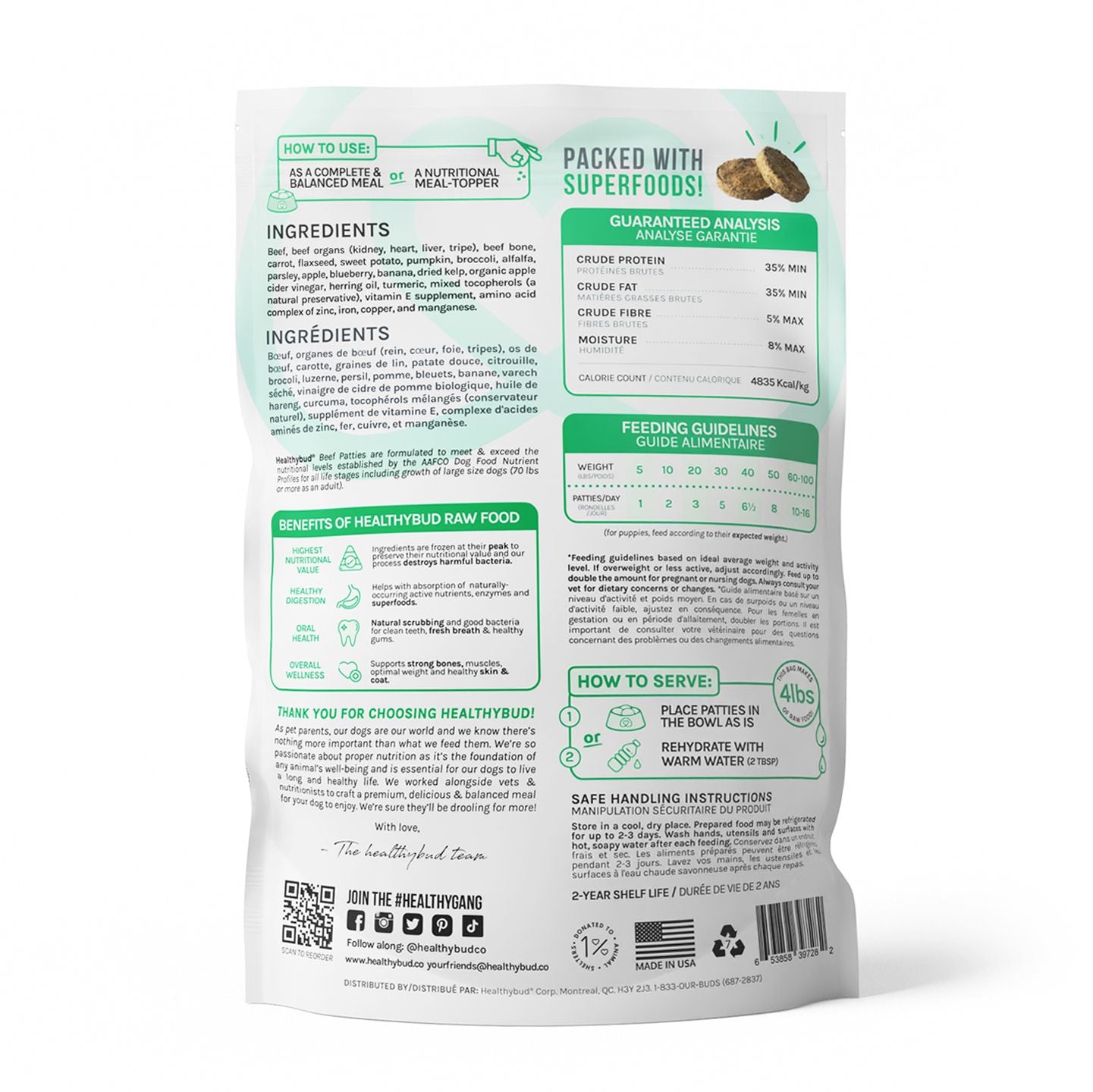 I have the pickiest little poodle and have tried a number of different dog foods. I recently found out about healthy bud and it has changed both our lives! He finally eats all of his food with zero hesitation! I am so happy I found healthybud!
Super convenient to prepare and feed. My doggies love this stuff!
My dog literally whines the minute I open the bag to put these onto his food. He can be a very picky eater, and when I add these patties to his meals, there is not one crumb left! I call these liquid gold for dogs. If they made them in other flavours, we would buy them all!
These patties are my saviour during the times I can't really pay attention to my dog. Few pieces of these and he will remain as a good boy, I can finish my works easily and we both are happy. He loves these as his dinner as well. It is not just delicious but also very nutritious. Glad to know this product. Keep up the good job!
As soon as I am about to open the pack, my dog will start to wag his tail - indicating he loves the smell and can't wait to eat it! He loves every tiny bit of it and especially enjoys it more when I mix patties with bites - he usually finish the bites first then patties later. It has been really easy mornings for me ever since I started to feed him with these two!
It's been a battle for years to feed my dog. He used to love Stella & Chewy, that lasted 1 year, he hates it now, so I moved to primal, which he still eats but it's always a struggle. I found healthybud by chance, tried your food. It's been 2 days he's going crazy for more.
Our 15 1/2-year-old Fritz is a prime example of you are what you eat. Fritz struggled with severe skin irritation, difficulty breathing and severe joint pain for almost two years. We were convinced that Fritz was suffering from some sort of allergy; however, despite numerous visits to the veterniarian, blood and skin tests, several different medications and diets ranging from raw to home cooked meals with vitamain supplements, Fritz continued to deteriorate rapidly. He could no longer climb the stairs, spent most of his day sleeping and his struggle to navigate the everyday tasks of living was evident. Then, we discovered Healthybud Freeze-dried Raw food. Within only one month of being on an exclusive Healthybud freeze-dried raw diet, Fritz's condition improved significantly. Within two months, Fritz's recovery was miraculous. Fritz began climbing stairs, was able to go for walks and is generally a happier, perkier dog. We are extremely grateful and thankful to the folks at Healthybud. Thank you for bringing our Fritz back.
Jax has always been a grazer when it comes to breakfast and dinner (never treat time, of course) and he typically goes to the bush with dad. These can be long 10-12 hours days and we hate when we goes to work without eating his breakfast! We have been using both these products as meal toppers to entice him to eat and needless to say, he LOVES both the kibble and patties! With the patties, we have been rehydrating them and turning them more into a paste, usually 1 -2 patties, and then coating his regular kibble with it. Jax will crush his bowl of food when we do this! We would also love to see this Freeze-Dried line expand with some different flavors!