Healthybud™ Single-Ingredient Beef Lung Treats for Dogs 5.3 oz
Regular price
Sale price
$15.99 USD
Unit price
per
Sale
Sold out
The high-reward, protein-packed treat! Made of pure Beef Lung, these lightweight wafers make a great high-reward training treat and are easy to break into small pieces! This delicious, human-grade beef is sourced from Canadian farms and is a nutritious, protein-packed super snack.
Sourced from farms in Quebec, Canada
Gently baked for the perfect texture
High in protein, iron & essential nutrients
Boosts metabolism and strengthens muscles and bones
Helps the nervous system and brain function
Boosts cell reparation and red blood cell formation
Supports a healthy heart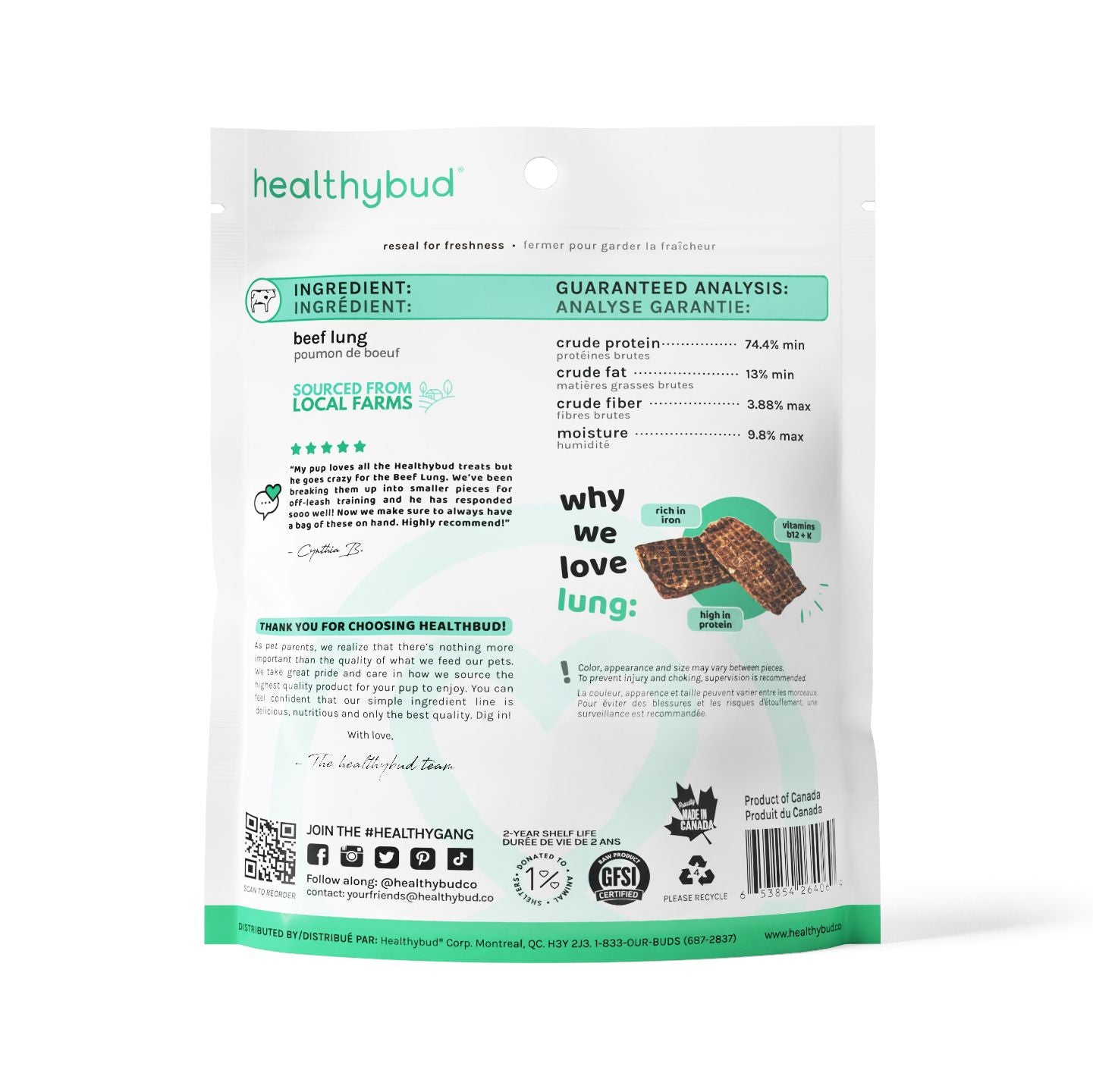 We were thrilled to win this giveaway package and have made our way through most of the treats, but the beef lung is Datsun's favourite. He starts drooling as soon as I grab the bag. It's the perfect high value training treat!
My boys loooooove these. Will be getting more. And trying the other products as well! Also the shipping was very quick. Happy with my purchase
My dog who is a very picky eater didnt like the cod skin HOWEVER, he is obsessed with the beef lung! He gets so excited when he hears me open the bag and tails are wagging. I love it.
Zeus loves the beef lung treats! He instantly started begging for them after his first introduction to them. He followed me around the house for hours hoping for more!
It's always funny seeing people wince when you mention it's beef lung :p My pup absolutely loves these! Great for training and high reward treat.
Sid is picky and doesn't usually eat treats so we're happy to have found this beef lung treat. Also, I love that I don't have to worry about the quality of the ingredients!
This was recommended to me on a facebook group because I was at my wits' end trying to find a treat that the dog would actually take while training "in real life situations". He's quite anxious and will only take treats at home. Until we presented him with these!
I love the simple ingredients you get what it is and my dog keeps asking for more and I don't feel bad giving him 2-3 times a day because it's not junk! Will repurchase!
Yummy my doggies love it! Healthy too
These beef lung treats are my dogs favorite treat! Love that they're made well and single ingredient!