Cat-Man-Doo™ Life Essentials Freeze Dried Chicken Littles for Cat & Dog 5 Oz
Regular price
Sale price
$19.99 USD
Unit price
per
Sale
Sold out
These small bites of human grade, FDA inspected all white breast meat are carefully sliced into strips. The strips are then fully cooked to eliminate any possible bacteria and then perfectly freeze dried without the use of chemicals, additives or preservatives. This is a single ingredient treat free of grains and fillers. It is low in fat, calories and carbohydrates so it won't contribute to weight gain like biscuits and other high calorie treats. There are approximately 70 calories in ONE OUNCE of chicken. The smaller pieces, approximately the size of a piece of popped corn, are the perfect size for cats and small dogs. These scrumptious little bites are a healthy daily snack and you can feel great each time you reward your treasured four-legged family member with Life Essentials Freeze Dried Chicken Littles. Proudly made in the USA.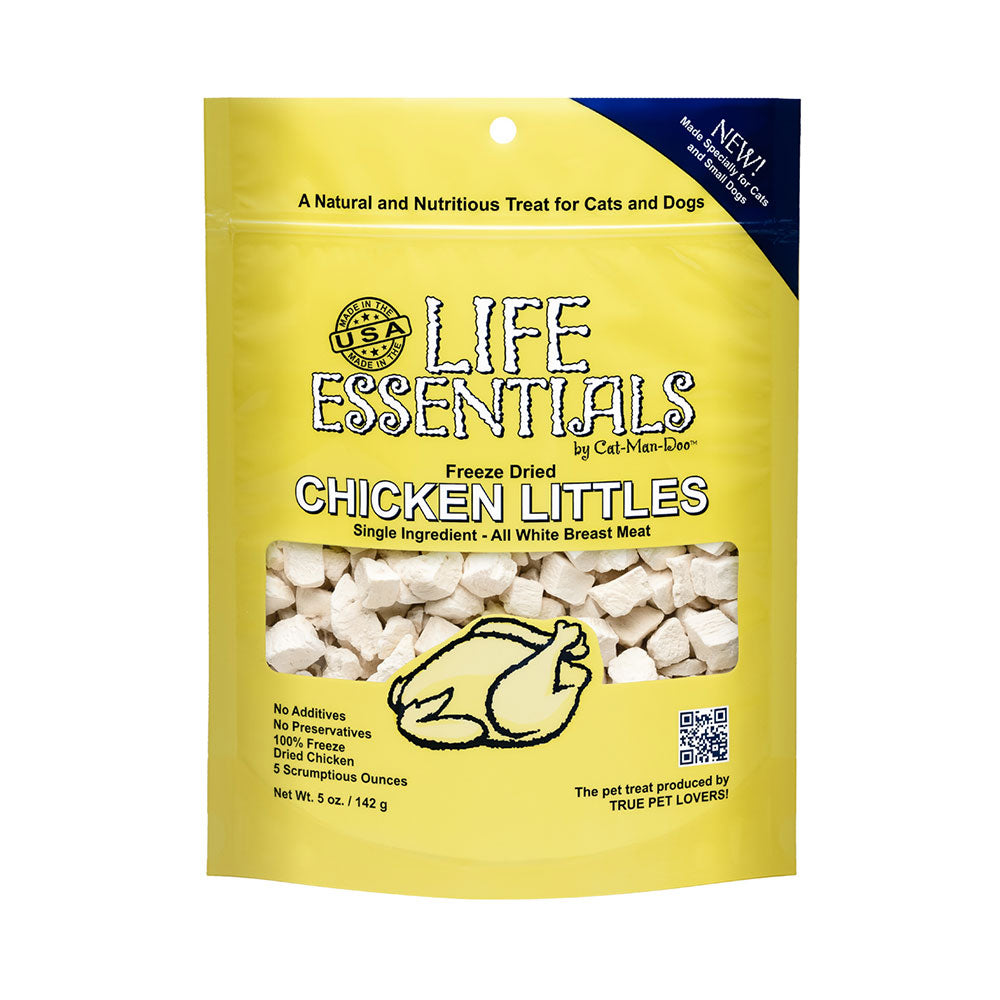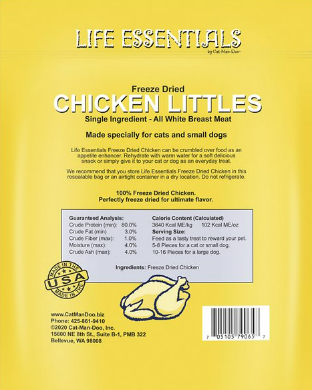 Krystal would kill me in my sleep if I quit feeding her Life Essentials
As I said in the title, my cat Krystal is a huge Ragdoll cat that would kill me in my sleep if I no longer fed her Lifes Essentials. She is an addict and might need a 10-step program at this point. I love her dearly and am never without the food treats that she dearly loves. She lives for Life Essentials and she is such a picky eater. It is good for her also. I am her hero when she sees the yellow bag.
Thank you, Cat Man Doo, for making me look great to my Krystal!
Cats favorite treat
I have tried many treats with my cats over the years and this is by far their favorite!
"Love at First Taste"
Our brother cats Buddy and Flash love these treats. We can lure them in from anywhere by merely shaking the bag. These are high quality treats that when given sparingly, will last 3-4 weeks. These are our goto choice.
Winner
My cats LOVE freeze dried chicken treats, and they're one of the few treats that meets their dietary restrictions. Life Essentials is the only brand we buy because the morsels are fresh. Most other brands, half the container consists of chicken as hard as a rock.
Firefighter Mike
The daily main meal of my 12 yr old female cat
The best freeze-dried chicken treats!
These chicken treats are the one thing that my cats can not get enough of. The dogs really like them too.
Cats Love them!
These are the best cat treats! No hard pieces like other brands and the cats love them!
Perfect customers service
The new package came perfectly packed and 100% intact. Thank you!
This is "kitty crack"!
I only recommend this if you are prepared to keep giving this to your pet. We dread when the bag is getting low and fear for our lives if it is unavailable. The cat now LIVES only for this. Begs for it constantly. Good thing she's cute!
Kitty crack
I haven't met a cat yet who doesn't love this healthy treat! Two of my cats prefer this, the chicken littles, over the regular freeze dried Chicken. The latter is flaky when broken into pieces.