Healthybud Freeze-Dried Turkey Meal Patties for Dogs 14 oz
Regular price
Sale price
$35.99 USD
Unit price
per
Sale
Sold out
A complete meal packed with powerful superfoods & healing ingredients! Our Freeze-Dried Turkey Patties provide the powerful benefits of raw food with the convenience of kibble. These meals are packed with unique ingredients and superfoods to help strengthen your dog's immune system and provide a delicious combination of antioxidant-rich foods. Our complete & balanced diets are formulated alongside veterinarians, nutritionists and partner universities. Formulated to exceed the nutritional levels established by the AAFCO Dog Food Nutrient Profiles for all breeds, life-stages and sizes.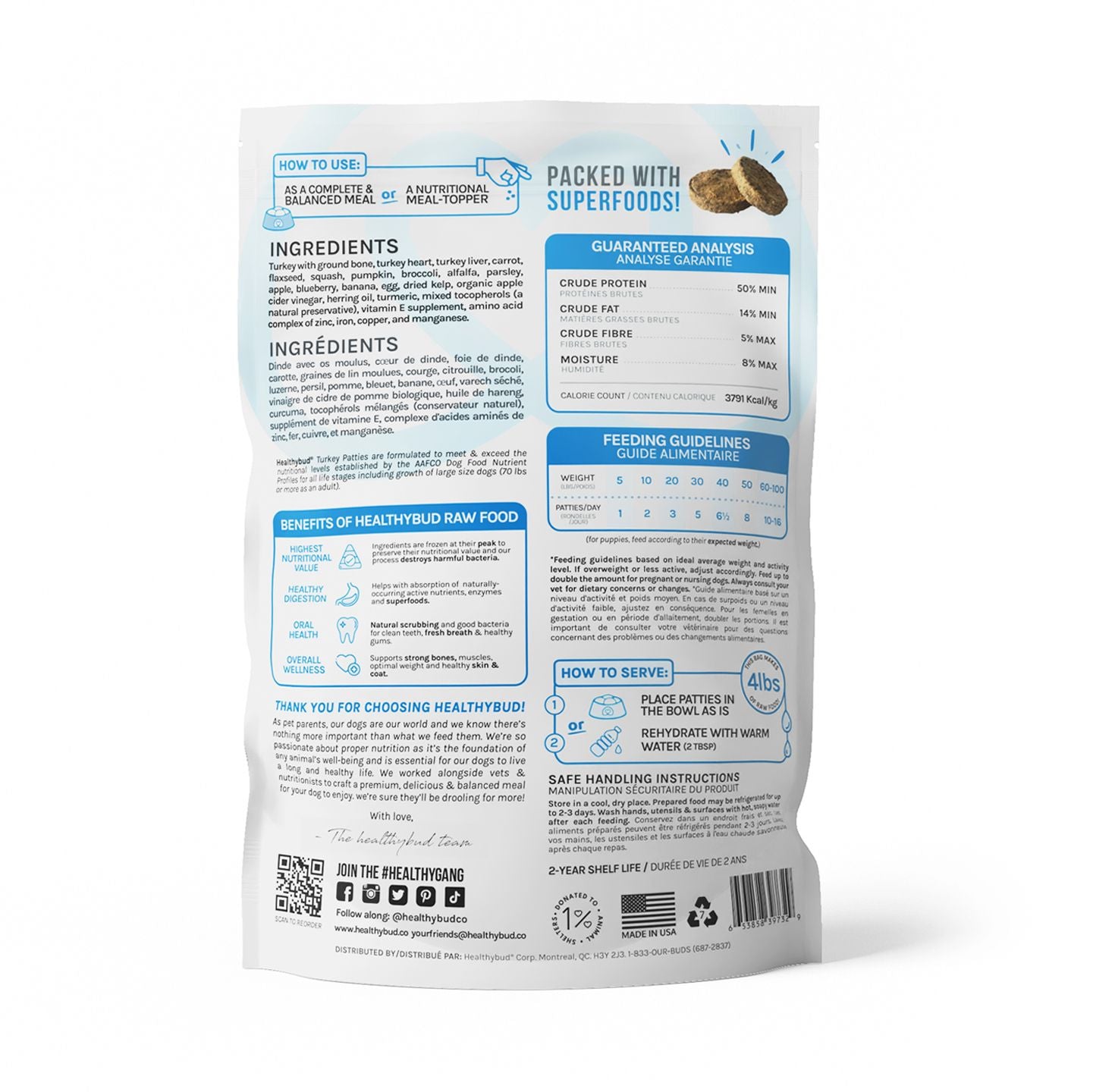 I'm so glad I found this. I'm trying to give more raw food to my dog, but sometimes it can get tricky when travelling or on the go. Those patties are so convenient since we don't have to worry about the freezing aspect that we usually have with raw! I can just bring it with me where ever we are, add water to it (or give it as it is), and voilà! Way better food then kibbles, super healthy, and convenient. We love it!
Either as a meal or treat, we can never go wrong with these Turkey patties. I bought Turkey patties with bites and booster altogether, so usually I feed my dog all three at the same time. Although all are Turkey's, but my dog is smart, he knows the differences even it is just slightly. We sometimes need to be creative in the way we feed our dog. My dog isn't a picky eater but changing the way I feed him helps him to enjoy his meal more. He really loves these and always look forward for more. Thanks Healthybud!
I'm so glad that my dog loves this a lot. Usually I mix turkey patties and bites for dinner time and for lunch sometimes I mix turkey with beef or either one. It's been a week trying this way, and so far the result is good. No upset stomach and he is as active as ever. Hope it will continue this way. All Healthybud bites and patties are good and worth every cent. Will repeat my order and hope to see more varieties in the future.
My bud loves them and they have all the best ingredients! I use them as a tasty snack on special occasions. You can't go wrong with these.
This food is simply amazing! I've started mixing this food with her kibble and she gobbles ALL her food right up! She hardly ate before. Ever since I switched to healthybud, her overall berhavior seems better, more energy and more relaxed! I'm so happy we found this brand! I'll be a lifetime customer.
We love the ingredients healthybud uses in their food! So healthy. Also, freeze-dried is the way to go for us! So convenient and more importantly no mess!
We fed Stella & Chewy and found their product to be a little inconsistent. Sometimes we'd get a good batch and other times our dog wouldn't eat it. We heard about healthybud through a facebook ad and we were so happy to hear about their clean ingredients! Our dog loved the Turkey Patties and she's doing really well after her first week of only healthybud! We will come back.
Wow! I've had so many problems with my dog not eating her food. We heard some great things about healthybud through a friend! We were so happy to see that she gobbled up all her food in one sitting. The food smells good, is easy to store, and I can tell it tastes good too!